You are here
Back to top
Wuthering Heights: : Wuthering Heights by Emily Bronte Books ( World Classic Books Wuthering Heights 1939 ) (Paperback)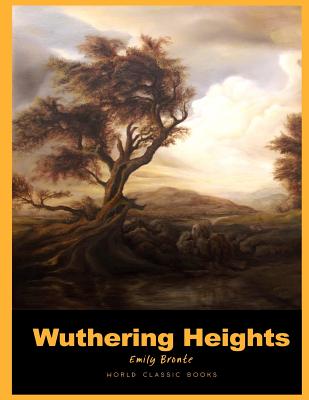 For more information on this item email bookwormtricities@yahoo or Call 509-735-9016
Description
---
Wuthering Heights is a wild, passionate story of the intense and almost demonic love between Catherine Earnshaw and Heathcliff, a foundling adopted by Catherine's father. After Mr Earnshaw's death, Heathcliff is bullied and humiliated by Catherine's brother Hindley and wrongly believing that his love for Catherine is not reciprocated, leaves Wuthering Heights, only to return years later as a wealthy and polished man. He proceeds to exact a terrible revenge for his former miseries. The action of the story is chaotic and unremittingly violent, but the accomplished handling of a complex structure, the evocative descriptions of the lonely moorland setting and the poetic grandeur of vision combine to make this unique novel a masterpiece of English literature.
About Emily Bronte Books:
Emily Jane Bronte was a British novelist and poet, now best remembered for her only novel Wuthering Heights, a classic of English literature. Emily was the second eldest of the three surviving Bronte sisters, being younger than Charlotte Bronte and older than Anne Bronte. She published under the masculine pen name Ellis Bell.
Emily was born in Thornton, near Bradford in Yorkshire to Patrick Bronte and Maria Branwell. She was the younger sister of Charlotte Bronte and the fifth of six children. In 1824, the family moved to Haworth, where Emily's father was perpetual curate, and it was in these surroundings that their literary oddities flourished. In childhood, after the death of their mother, the three sisters and their brother Patrick Branwell Bronte created imaginary lands (Angria, Gondal, Gaaldine, Oceania), which were featured in stories they wrote. Little of Emily's work from this period survived, except for poems spoken by characters (The Brontes' Web of Childhood, Fannie Ratchford, 1941).
" Do you think Heathcliff loved Hareton, even though he said he didn't? Heathcliff used Hareton for his revenge, but I can't help but feel like Heathcliffe loved Hareton despite not wanting too (or maybe he loved him as much as someone like him could love the son of his sworn enemy). Not to mention that Hareton loved Heathcliff like a father and Hareton's love couldn't have come up out of nowhere. "
" Can anyone understand Joseph's old Yorkshire dialect? Perhaps the book would have been better with him dictating the story to Lockwood? "